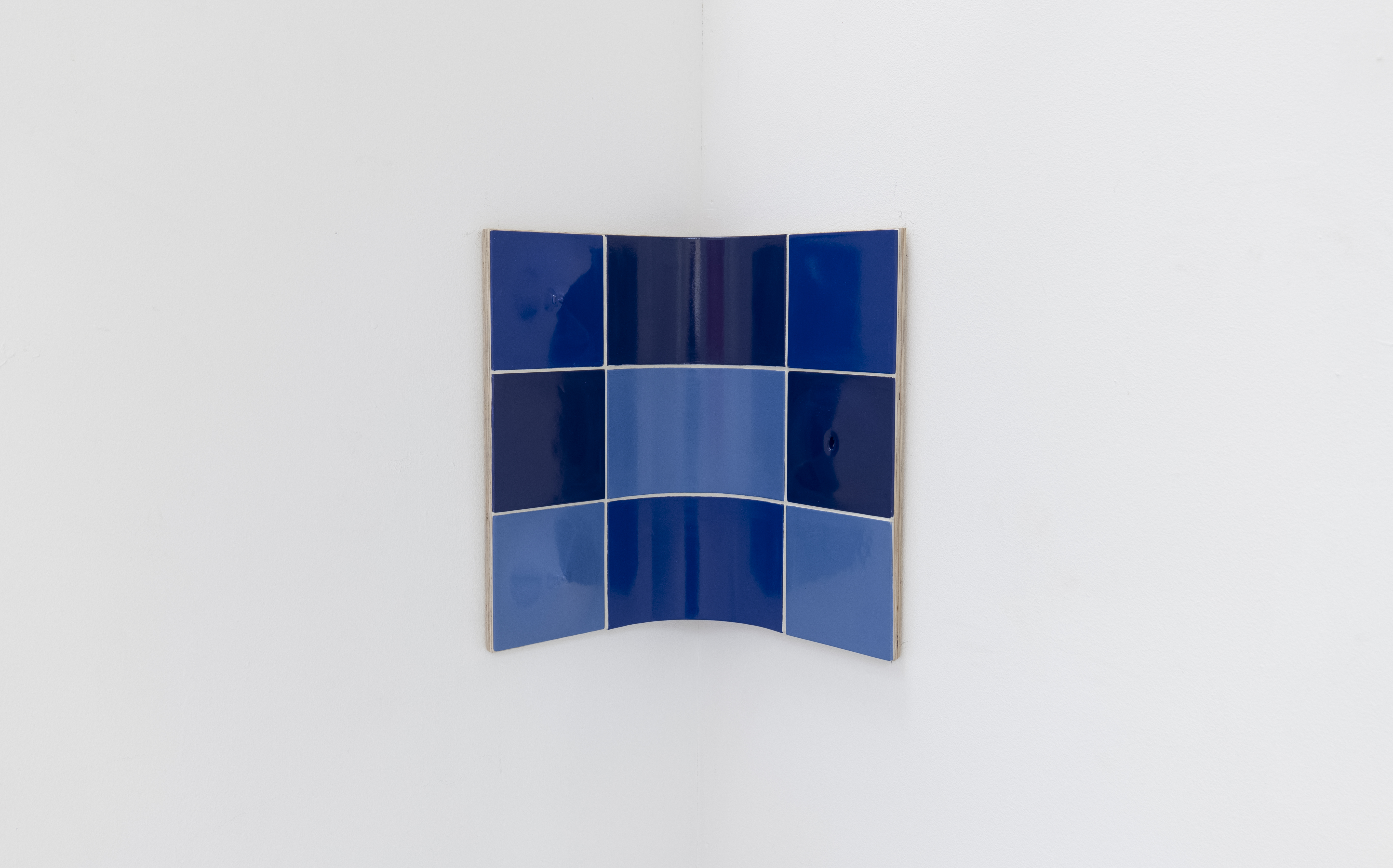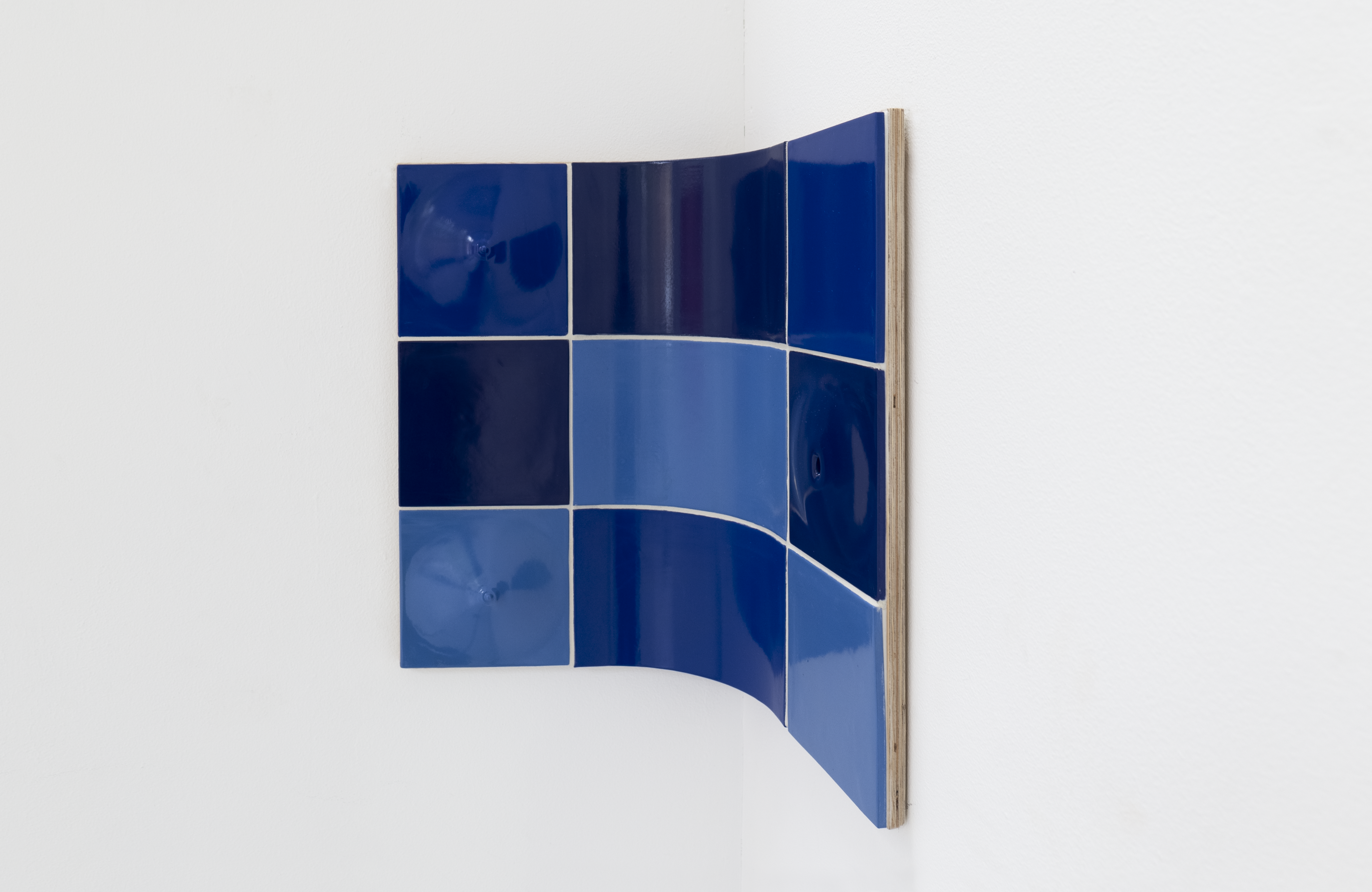 Raumplanning on Vaseline Alley
Galleri Mejan, Stockholm
11.11.2022–20.11.2022

Why am I longing for a time that is long gone?
I dream about being part of a romanticized version of Un chant d'amour1, about visiting The Stud Bar in San Francisco in the 70s, about the aesthetics of the machine society, a machine that metaphorically fucks the world around me in a medieval fennel field.
Here I reminisce about personal narratives as well as historical events.

We traveled to the Côte d'Azur last summer. We planned to remain for a week, but we ended up staying for two. Eileen Gray's E1027 villa was closed due to the pandemic. According to Google maps, there is a historic gay beach nearby. So we went there, only to be met by a 'so-called' traditional family beach. After a while, we noticed guys weaving their way through the blankets and yelling children, to the corner of the beach,our journey on that path was dangerous. Boulders, cliffs, and jagged rocks had to be climbed for thirty minutes. We had to use a rope for abseiling five meters in the last phase of the steep trail – to finally arrive, at a beach intended to habituate us as gay men and our desires- as such.

*

As I walked past the house, I was reminded of my childhood growing up in a steel production town. A functionalist housing complex was gradually torn down and replaced with a postmodern structure suitable for a new working class. The fog from the steel plant would sometimes color the sky in a strange spectrum from orange to pink. This occurred when the charcoal pellets burned and the attempt to extract the gas failed. The chemical clouds could be seen floating over the town from factory fires that raged all night. The large furnace would appear as a lonesome stronghold. For forty years, the charcoal oven has not yet stopped. Due to the constant thin layer of coal that covers the area, the neighborhood beside the plant is known as Black Island City.

*

The architectural features of gay clubs suggest a fluctuating ambiguity of the gaze's power structure. The architecture cruises the visitor, where the details crop and disguise the bodies that move through those spaces. Certain gay clubs have dark rooms; areas that have minimal or no light sources at all. Through the act of cruising, brief intimate relationships might then arise. It strikes me how prominent Adolf Loos' notions of bodily movement and the masculine gaze are in those environments, the gazed upon is now veiled in darkness. Black leather and chromed steel that is present within the fantasy of a German psychoanalysis reception- Charlotte Perriand's design of the lounge chair LC4 (Chaise longue basculante) was Included in the Salon d'Automne 1929 in Paris2. Perriand's collaboration with Corbusier became a classic design of the International Style. LC3 was initially produced by Thonet, in the catalog Perriand's name was excluded3.

*

On the last day in L.A, I had only one photo left on the camera roll. At Vaseline Alley, I took a picture of a T-shirt. It was a knockoff with a blurred-out "ToF" logo on the front and a sloppily hand-lettered "Sissy Boy" on the back. Seeing the well-known street and finding an empty parking lot- capturing this in a photo made me feel detached from this space. After the fabled alley behind Circus of Books, I felt disconnected from the neighborhood's turbulent past.
At least I have a photo to show I was there.

*

Finocchio- Italian for fennel is a derogatory slur like faggot, reminds us that the gays were sometimes used as kindling for the stakes used to burn witches. Homosexuality was still widely acceptable throughout the Renaissance, however, eradicated during the witch-hunt. The persecution of homosexuals was so severe that its legacy is engraved in our language4.

*

What does it mean to be a body in space?
Correlating the corpses of burned homosexual bodies - their stench concealed with the smell of fennel in the Middle Ages with Club Kids dropping dead on dance floors today, connecting the Raum Plan of Adolf Loos' concept of space to dark rooms of gay clubs, comprehending the image of a highly masculinized Tom of Finland5 body on a t-shirt against my body, discovering the meaning of a journey to a historical gay landmark that can come to disappoint me.
Being there belongs to me while also the feeling of being so far away.



Un chant d'amour is French writer Jean Genet's only film, which he directed in 1950. Because of its explicit homosexual content, the 26-minute movie was long banned.


B Colomina, Sexuality and Space, Split walls: Domestic Voyeurism, 4th ed, Princeton Architectural Press, 1996, p 104


V Masucci, Le Corbusier, Machines for Living: Furniture: a Critical History, Centre Le Corbusier Press, Zürich, 2010, p 33.


S Frederici, Caliban and the Witch: Women, the Body and Primitive Accumulation, 3rd printing, Autonomedia, New york, 2009, p. 197


Touko Valio Laaksonen, best known by his pseudonym Tom of Finland, was a Finnish artist known for his stylized highly masculinized homoerotic art, and for his influence on late 20th-century gay culture.



Written by: Erik Thörnqvist

Edited by: Tal Gilad

Photography: Jean Baptiste Béranger




List of Works:

1

Cruise Blinder I
Valchromat, Galvanized steel, Jesmonite, Scaffolding Joints, Linseed Oil, Wax
200 x 120 x 25 cm

2

Abseiling to a Gay Beach
Rope, PLA, Paint Medium, UV Resistant Lacquer
300 x 50 x 50 cm

3

Unit Loop III
PLA, Burnt umber, Ochre, Paint Medium, UV Resistant Lacquer, Grout, MDF
61 x 61 x 3 cm

4

Stansmaschine II
Cast Aluminium, Scaffolding Joints, Chaise longue basculante by Charlotte Perriand
185 x 80 x 40 cm

5

Cruise Blinder II
Valchromat, Galvanized steel, Jesmonite, Scaffolding Joints, Linseed Oil, Wax
200 x 120 x 25 cm

6

Unit Loop I
PLA, Cobalt Blue, Cerulean Blue, Paint Medium, UV Resistant Lacquer, Grout, MDF
46 x 31 cm

7
Finocchio, Finocchio
Dried Fennel, Fresh Fennel, Glass Vase, Water, Fennel's Essential Oil

8

Vaseline Alley
Archival pigment print
30 x 40 cm